How it Works
Click on an area of the graphic to learn more about how Partners Insight can enhance your practice.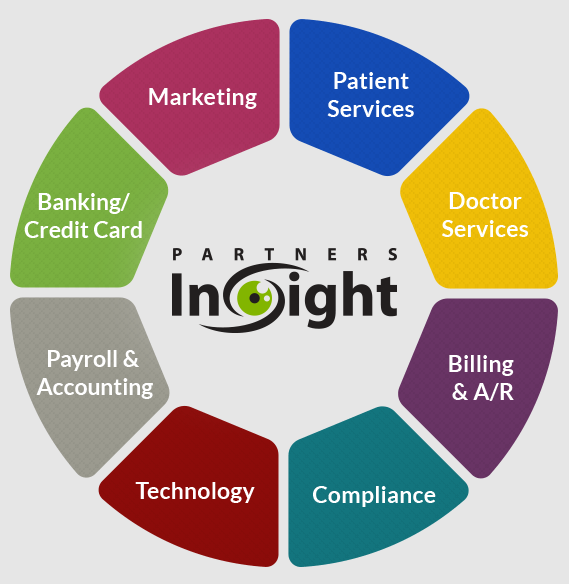 Marketing
Website & Social Media Build & Management
Market Fee Analysis
Patient Services
Electronic Medical Record Management
Retinal Photography
Online appointment setting and email reminders
Customer Support Team
Doctor Services
O.D. Recruitment
O.D. Scheduling
O.D. Credentialing
Training
Business Associate Agreements
Billing & A/R
Outstanding A/R
Insurance Claims Review
Billing & Collection Reporting
O.D. & Tech Training (ICD10 Coding)
Compliance
Chart Auditing
HIPAA guidance and training
Insurance Carrier Audits & Corrective Action Plan Management
Technology
Proprietary Software
IT Hardware & Software
IT Hardware, Software & Retina Camera Training & Support
Point of Sale Services
Payroll & Accounting
Process Payroll
Collect & Remit Taxes
Generate W-2s, 1099s
Dashboard Reporting (Daily, Monthly, Annual)
Banking / Credit Card
Merchant Services, including Credit Card & Check Terminal Set-up
Negotiate Credit Card Fees with Banks
Set-up & Manage Auto Debit Cards for Tech's Auto-Pay

Appointment Setting
Appointment Setting is key to effective practice management where the doctor is assured that the patient calendar is maximized.
This service offering deploys a trained professional team of specialists that communicate with the patient online and through calls. Whether it's setting up or confirming the annual recheck, staying in touch with your patients helps reduce attrition.  Your staff gets to focus on patient check-in and care, and not on lower value administration responsibilities.

Billing/Claims processing
Billing and processing claims can be the most difficult part of running your practice. We will ensure your practice billings are done accurately and processed efficiently for prompt payment.

Compliance
Our services includes chart auditing, HIPAA, as well as ensuring the practice stay current with the insurance carrier requirements.  Risk management is a practice responsibility that all too often is de-emphasized until an issue arises, should an audit be required we will support you every step of the way.

Credentialing
We ensure that all doctors, full and part time are properly certified with the appropriate insurance carriers. This service will assist in exam growth and decrease co-pay only payments.

Customer Service
Great customer service is the foundation of a great practice. We will help ensure the patient receives the highest quality interaction when addressing issues with billing, insurance or office related issues. In addition, we will manage social media reviews. By freeing up your time and that of your staff, you are able to avoid interruptions and distractions knowing your patient's issues are being addressed producing the world's happiest patients.

Electronic Medical Record
We provide EMR software that is comprehensive, integrated, flexible and is specifically designed to increase your practices efficiency, profitability and gives you more to time focus on what means the most, the patients.

Marketing
Marketing is included within the subscription to provide you with a professionally maintained website as social media presence to promote your practice and drive exams.

Recruitment
Not having a network of Doctors to fill in and provide coverage puts your partnership at risk as well as your income, it also tends to take time away from patient care. Our expert recruiters will step in and provide search, identify and interview candidates for your full-time, part-time and fill-in requirements. Leverage our extensive ophthalmologist, optometrist and optician network.

Retinal Imaging
Retinal imaging aids in providing a valuable patient care function.   Provide your patients with year-over-year retina image comparison and provide them with a reason to return to your practice.  Of course, the retinal camera and training is included.

Provider Scheduling services take the complexity out of your coverage model and free you up to spend your time as you see fit. Let us manage those fill-in and part-time schedules, and for larger practices, the full-time doctors as well.

Technology
IT support includes initial set up and updates so you can stay current with the latest software updates.   Maintain a practice with fully up-to-date software, without the hassle factor of doing it yourself.

Training
We provide comprehensive training on all our services including EMR, compliance, claims, retinal imaging, appointment setting. Our goal is for you and all members of your staff to maintain a high comfort level with all operations within your practice.
Learn more about how we can help your practice